Salads are the ultimate in customization, with endless ingredient combinations to suit our personal tastes. Similarly, our approach to managing your 401k is just as flexible, allowing us to explore various strategies and options to achieve the desired outcome. With the right blend of essential elements and a well-crafted plan, our advisors at WPWealth will deliver a satisfying 401k that will meet your needs.
Cash Balance Plan
Are you currently maximizing your 401(k) profit-sharing plan but looking to save more? Then a cash balance plan may be worth exploring. A cash balance plan is a type of defined benefit plan with more flexibility. Specifically in how benefits are earned. An employee is provided an employer contribution equal to a percent of each year's earnings and a rate of return on that contribution. Unlike a 401(k) plan where an employee directs their investments, a cash balance plan is a pooled account. Cash balance plans are almost exclusively offered in combination with a 401(k) profit-sharing plan.
Profit Sharing
Many retirement plans are designed to include a feature that allows the employer to make a profit-sharing contribution in any given year. Allocation methods will vary but contributions are often calculated as a percentage of the company's profits for the year and include a vesting schedule. With vesting, participants gain ownership of the profit-sharing contributions after a certain number of years of employment. Thus, incentivizing employees to stay with the company.
Match
A 401(k) match is money your employer contributes to your retirement account. Depending on plan design, your employer may wholly or partially match your contribution up to a certain threshold. Employers offer this benefit to attract and retain top talent while simultaneously encouraging employees to save. Not taking advantage is leaving money on the table.
Nonelective
Nonelective contributions are funds employers contribute to an employee's retirement account. This option carries a flat percentage of pay contribution for all eligible employees, even if they choose not to defer.
401k Plan
A 401k is an employer-sponsored retirement savings plan that allows employees to defer a portion of their salary for retirement. Contributions are made directly out of their paychecks and invested from a list of available offerings. Employers may also choose to contribute to employees' accounts.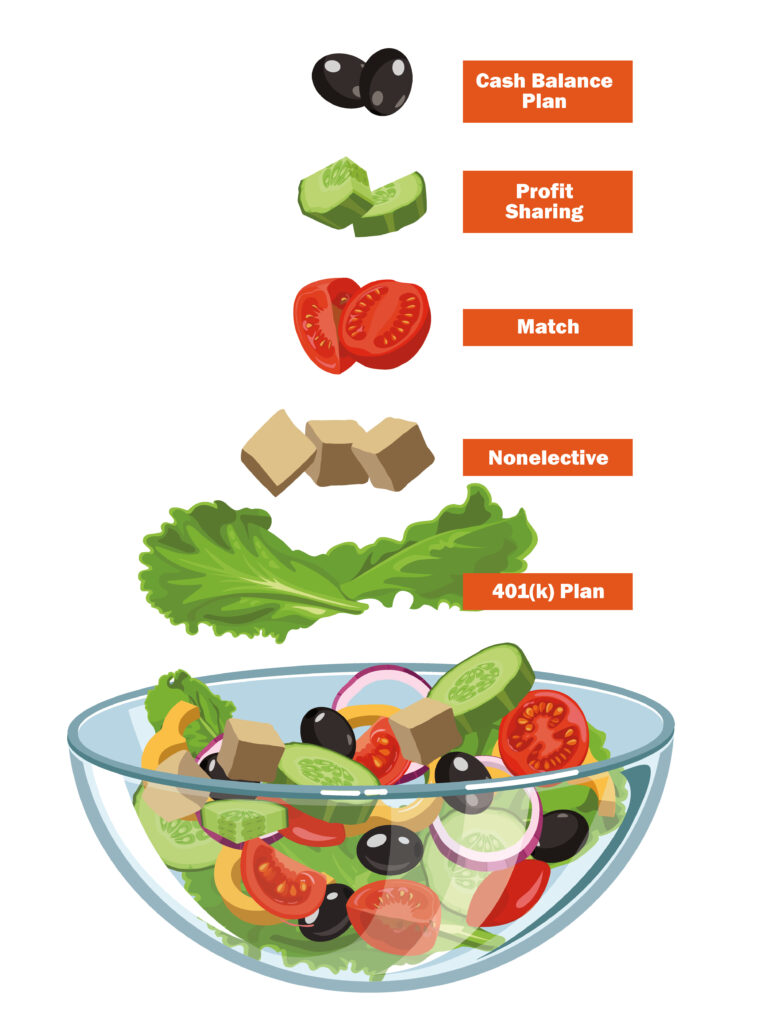 Contact Us
Let us create a customized plan that fits your unique financial goals and needs. Start crafting your 401k "Salad" today by speaking with one of our advisors at WPWealth via the button below.