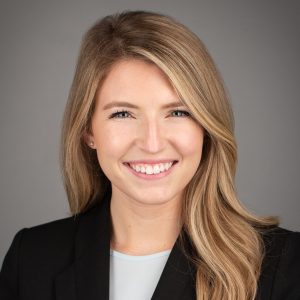 Bree Miller, CFP®,CPA
Manager | Wealth Management
Bree Miller is a CERTIFIED FINANCIAL PLANNER™ professional and Certified Public Accountant (CPA). Bree joined WPWealth in 2019 and is a Wealth Management Manager. Bree previously worked in Big 4 Accounting with large financial services institutions as a Tax Senior Associate. Bree's experience in wealth management, as well as tax preparation and consulting allowed her to develop an extensive knowledge base to provide comprehensive solutions to individual's financial needs and is a valuable asset to WPWealth's clients.
During Bree's tenure at WPWealth, she has been vital in the success of providing tax-saving benefits to the Whitley Penn clients by implementing Wealth Wednesday educational videos. The series provides excellent advice for clients of the firm and its employees. Additionally, she hosts the new podcast series that focuses on the ever-changing state of the economy by providing relevant and timely information updates.
Bree graduated from Texas A&M University where she earned a B.B.A. and M.S. in Accounting. She is an active member of the American Institute of Certified Public Accountants (AICPA), Texas Society of Certified Public Accountants (TXCPA). She also enjoys volunteering for the Cristo Rey Fort Worth in their Monday Mentor and Corporate Work Study Programs.
Bree and her husband reside in the Fort Worth area and, when not at work, can be found enjoying her time with family.